if lt IE 7 html classnojs ltie9 ltie8 ltie7 lang endifif IE 7 html classnojs ltie9 ltie8 lang endifif IE 8 html classnojs ltie9 lang endifif IE 9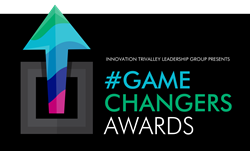 The Tri-Valley California innovation and technology economy generates more than $42 billion in gross annual domestic product, similar in size to that of the Research Triangle in North Carolina. In recognition of the region's leadership in Bay Area entrepreneurship, Innovation Tri-Valley Leadership Group is honoring nine businesses that are changing the landscape here and elsewhere and, in the process, creating a better world while enjoying the quality of life available in this region.

The Innovation Tri-Valley Leadership Group's 2019 #GameChangers Awards will be held on Wednesday, March 13, at 5:30 p.m., at the Firehouse Arts Center Theater in Pleasanton. The public is invited to meet the leaders of the 2019 #GameChanger organizations at this event. Tickets and information are available at innovationtrivalley.org.

"The Tri-Valley has been transformed from a sleepy suburbia into a buzzing hive of innovation – I couldn't be prouder to sing our region's praises in Washington and in my travels around the country," says Rep. Eric Swalwell (CA-15). "Our community's economy, its diversity, and its willingness to adapt, disrupt, and improve is having an impact from coast to coast, and the #GameChangers are right at the vanguard."

"The Tri-Valley's innovation assets are driving our economy," says Lynn Naylor, CEO of Innovation Tri-Valley Leadership Group. "With this award, we applaud these dedicated visionaries and support them as their businesses grow, right here in the Tri-Valley, where their employees benefit from living and working in our collaborative ecosystem."

In addition to the #GameChanger Awards, the 2019 Founders Award will be bestowed on a visionary organization that has worked to improve the innovation ecosystem of the region through community engagement and collaboration with other Tri-Valley leaders. This year, Sensiba San Filippo will be honored for catalyzing a rich culture of community at the Pleasanton-based firm, as well as for its philanthropic efforts and leadership position as the first and only B Corp accounting firm in California.

2019 #GameChanger Award Winners to be showcased at the event are:

-10x Genomics (Pleasanton, CA), changing the way the world addresses biologics and disease
-Amber Solutions (Dublin, CA), revolutionizing electronical products with solid state technology for safer, smarter homes and buildings through smart outlets, switches and circuit breakers
-Coast + Range (Danville, CA), transforming the $32 billion pet industry with personalized, clean nutrition for dogs
-Creative Digital Agency (San Ramon, CA), leader in mobile consumer marketing, recent winner of global 'Smartie' Award from Mobile Marketing Magazine
-Elysium Therapeutics (Danville, CA), disrupting the opioid pain relief market with products that can't be misused or abused
-Lambda School (Pleasanton, CA), groundbreaking online coding school eliminates student debt and grows the regional talent pool
-Saba (Dublin, CA), talent management software program that enables employees to bring their best to work everyday
-Vericool (Livermore, CA), compostable packaging breakthrough and 'second chance' team giving back to both community and planet

Past winners of the #GameChangers Award include GE Digital, Bishop Ranch, Lawrence Livermore National Laboratory, NeoTract, and Topcon.

For event tickets, more information about the Fourth Annual #GameChangers event or Innovation Tri-Valley Leadership Group, visit https://www.innovationtrivalley.org.

About Innovation Tri-Valley Leadership Group

Innovation Tri-Valley Leadership Group is led by business leaders and influencers committed to connecting the businesses, research labs, educational institutions, and civic leaders in the Tri-Valley region. This collaborative force is generating job growth and economic vitality for the region by illuminating its assets, and advocating for the TRIVALLEY as the Heart of California Innovation.