if lt IE 7 html classnojs ltie9 ltie8 ltie7 lang endifif IE 7 html classnojs ltie9 ltie8 lang endifif IE 8 html classnojs ltie9 lang endifif IE 9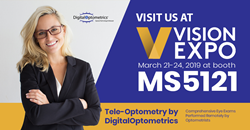 DigitalOptometrics will operate leased departments for its customers in the performance of remote comprehensive eye examinations utilizing its remote system. Its ocular examination service will be separate and distinct from the optical dispensary business of its customers to comply with state regulations requiring such separation. More than thirty (30) states in the U.S. require such separation in eye care services. "The expansion of our service will enable our customers to focus on the business of dispensing eyewear and comply with state regulations while we utilize licensed Optometrists to perform comprehensive eye exams and provide optical patients with convenient, quality, comprehensive eye exams coupled with an enjoyable exam experience." says Howard S. Fried, O.D., President of DigitalOptometrics LLC.

DigitalOptometrics continues to expand its technology throughout North America. Our Canadian neighbors have embraced the remote optical exam technology offered by DigitalOptometrics after successful introduction of our remote comprehensive eye examination system in Canada. "Plans are underway to expand our remote optical exam service in urban and rural locations in several Provinces in Canada," noted Dr. Fried. The DigitalOptometrics remote comprehensive eye exam system is more than a visual screening but a comprehensive ocular health and vision exam system performed, in less than 30 minutes, by in-person licensed Optometrists remotely located with voice and visual communication between patient and Optometrist.