Rentec Direct wins in the 2018 Best in Biz Awards for Customer Support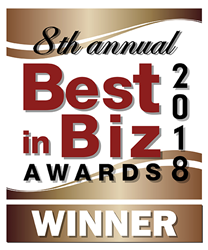 Rentec Direct, an industry leader in property management software solutions, has been recognized in the Support Department of the Year category in the Best in Biz Awards, the only independent business awards program judged each year by prominent editors and reporters from top-tier publications in North America. The company received this recognition in part based on its track record of translating customer feedback and requests into ongoing platform updates to improve user experience. This approach, along with enhanced features for customer service like Live Chat, have resulted making Rentec Direct the most recommended software in its space year after year.

"Our business was built around a philosophy of customer service from the start, when I created Rentec Direct's solution to solve problems in property management for myself and my peers. We want to make life easier for our clients, so our continuous improvement model - putting technology to work in a practical way - has resulted in happy customers," said Nathan Miller, president of Rentec Direct. "To be recognized nationally for our hard work in this arena is confirmation for our whole team that we are taking the right approach."

Each year, Best in Biz Awards' entrants span the spectrum, from some of the most recognizable global brands to the most innovative local start-ups. The 8th annual program proved to be a particularly tough competition, garnering close to 700 entries from an impressive array of public and private companies of all sizes and from a variety of geographic regions and industries in the U.S. and Canada. Best in Biz Awards 2018 honors were conferred in 70 different categories.

Since 2011, winners in Best in Biz Awards have been determined based on scoring from independent judging panels deliberately composed each year of prominent editors and reporters from some of the most respected newspapers, TV outlets, and business, consumer, technology and trade publications in North America. Structured in this unique way, Best in Biz Awards is able to best leverage its distinguished judges' unparalleled expertise, experience and objectivity to determine award winners from among the hundreds of entries. The 2018 judging panel included, among others, writers from Associated Press, Barron's, Consumer Affairs, eWeek, Forbes, Healthcare Innovation News, Inc., Investment Advisor Magazine, MediaPost, New York Post, New York Times, Ottawa Citizen and Wired.

For a full list of gold, silver and bronze winners in Best in Biz Awards 2018, visit: https://www.bestinbizawards.com/2018-winners.

About Rentec Direct
Rentec Direct offers industry-leading property management software and tenant screening solutions for real estate professionals. Features include online rent payments, tenant and owner portals, the industry's largest vacancy listing syndication network, full property, tenant, and owner accounting, 1099-MISC reporting, QuickBooks™ Sync and more. Rentec Direct received three gold-level 2018 American Business Awards, was named to the 2017 and 2018 Inc 5000 List of Fastest-Growing Private Companies and the 2017 Entreprenuer360 list for Best Entrepreneurial Companies in America. https://www.rentecdirect.com

About Best in Biz Awards
Since 2011, Best in Biz Awards has made its mark as the only independent business awards program judged each year by a who's who of prominent reporters and editors selected from top-tier publications from North America and around the world. Over the years, Best in Biz Awards judges have ranged from Associated Press to the Wall Street Journal and winners have spanned the spectrum, from blue-chip companies that form the bedrock of the world economy to local companies and some of the most innovative start-ups. Best in Biz Awards honors are conferred in two separate programs: North America and International, and in 70 categories, including company, team, executive, product, and CSR, media, PR and other categories. For more information, visit: https://www.bestinbizawards.com.