Oregon Realtor Patrick Sheehan Featured on Japan's Tokyo MX TV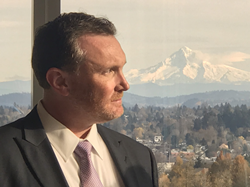 Tokyo MX Television is seen by roughly 3 million viewers across Japan. In a recent episode, Sheehan showed its viewers three potential properties for the show's producer. "This is the wackiest property tour you're likely to witness," said Sheehan. "The show is a mixture of HGTV and the Gong Show."

Sheehan was thrilled to be selected to do the segment. The show was in Portland shooting a segment with Junki Yoshida, who is a prominent television personality in Japan and an entrepreneur, restaurateur and philanthropist. "I've known Junki for many years and was flattered to be chosen for the spot," added Sheehan.

The show is meant to be lighthearted, with the correspondent using a mannequin with a mask that looks like the producer to demonstrate how he would wake up in a bed, walk his dog, etc. in Portland. "I provided them different options of homes to view, from an affordably priced condo to a luxury detached single family home, as well as luxury penthouse condo. It was important to show the different ways you can live in Portland," concluded Sheehan.

Sheehan earned the prestigious Platinum award in 2017 and 2018, reflecting more than $18 million in sales in that time. He was also a recent panelist at the APEX real estate conference in Honolulu, an invitation-only conference for high-producers nationwide.

About Patrick Sheehan, Better Homes & Gardens Real Estate
Patrick Sheehan has been selling executive properties since 2006. He is active in local politics and served in the Oregon State Legislature during the 2011-12 session where he represented roughly 70,000 Oregonians in Happy Valley, Clackamas, Damascus, Oregon City and Estacada. Sheehan is a Better Homes & Gardens Real Estate Platinum Award recipient for being a top producer in 2017 and 2018, reflecting more than $18 million in sales during that time, which puts him in the top 3% of agents at the company nationwide. For more information, please call (503) 734-0337, or visit https://patricksheehan.com/.

For media inquiries, please call the NALA at 805.650.6121, ext. 361.