Non-Profit Opens Doors to Seattle Charities in Need of Tech Donations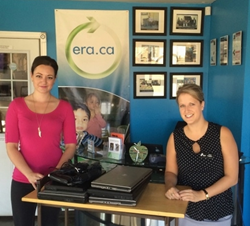 The Electronic Reusing Association (ERA) is proud to announce the opening of their Seattle office this month in Washington. ERA is currently looking to donate over 100 laptops and 100 computers to charitable organizations in the Seattle area. This donation will be valued at around $250,000 USD and will mark ERA's grand opening in the US market.

"We are extremely excited to be opening our doors in Seattle. Currently, we are working on establishing a need for tech donations in the area," said Bojan Paduh, Founder and President of the Electronic Reusing Association. "We are reaching out to businesses who have unwanted or used electronics. Many companies and individuals just throw their old devices away, what if there was another option? Everyone has heard of the Waste Hierarchy "The Three R's"; Reduce, Reuse and Recycle. There is a reason why they are in that specific order. ERA wants to bring this process to Seattle, employing reuse as the primary solution for companies disposing of tech devices and recycle as the secondary solution."

ERA's donation process works through their online application form. No requests will be considered by phone or email. All applications will be put into a queue and will be handled on a first-come first-served basis. Depending on available stock there might be a waiting period. ERA is not able to address requests made by individuals, requests must be made by one of the following (US-based only) on behalf of individuals who require donated equipment:

Not-for-Profit Organizations
Charitable Organization (Non Profit # Required)
Care Facilities (ie: hospitals, seniors' homes)
Educational Institutions
– 30 –
About the Electronic Reusing Association (ERA)
Established in 2004 in Canada, ERA is a non-profit organization committed to reducing the environmental impact of improperly discarded toxic electronic waste by offering accessible services to help corporations and individuals manage their retiring IT assets. ERA offers industry leading data erasure services, prompt and professional corporate pickup services and detailed reporting. With reuse being ERA's top priority, every item that is received is examined for any remaining productive life and, if possible, refurbished for reuse. True end of life items are transferred to accredited recyclers where a nil landfill contribution can be assured. ERA is committed to supporting local charities and individuals in need through their comprehensive, US and Canada technology donation program.
For more information, please visit https://www.electronicreusingassociation.us
Media contact:
Jessica Lifely
Business Development and Marketing Manager
206-309-2805