Dr. Shirin Towfigh Featured in Recent Podcast Discussing Groin Hernias...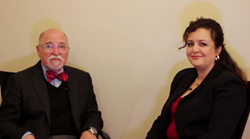 In a podcast produced by General Surgery News in October of 2015, host Ed Feliz, M.D. welcomed abdominal hernia specialist and head surgeon at the Beverly Hills Hernia Center, Dr. Shirin Towfigh to discuss the issues faced by female hernia patients when seeking out a diagnosis and treatment. The podcast was framed around the question posed by Dr. Feliz regarding whether or not female patients require a different approach than male patients, and Dr. Towfigh outlined both systemic and individual problems that female hernia sufferers face.

Systemic Problems – Dr. Towfigh explains that the first obstacle female patients must overcome is the fact that hernias are often incorrectly thought to be a problem that only men experience. She notes that most hernia studies do not include any female patients. Not only does this exclusion from academic discussion limit the knowledge surrounding hernias in women, the selective sampling further perpetuates the myth that women do not suffer from hernias. While not specifically touched on in the podcast, Dr. Towfigh has also noted previously that doctors of all specialties have been found to take female pain less seriously, and are quicker to label the pain as psychosomatic than they might be with an otherwise identical male patient.
Case By Case Difficulties – Dr. Towfigh explains that, even if this bias regarding female hernia sufferers were erased, doctors would still have a more difficult time properly diagnosing and treating hernias in women. She explains that, while male hernia sufferers typically present with a bulge at the site of the pain, female sufferers will often only experience pain without any external bulging. In many cases, she explains, this is because female hernias are more likely to be occult (hidden). Yet, while these occult hernias are certainly more difficult to detect, she explains that they can be found with surprising accuracy by using imaging technologies such as MRI.
Dr. Towfigh further explains that, unlike many medical issues that are difficult to solve due to a limit in medical knowledge or technology, the opportunity to provide proper care for female hernia patients is always present. What is needed, she concludes, is a shift in the attitudes and biases of a medical community that has long viewed the issues of hernia through a male filter. She adds that, for this problem to be fixed, we must educate doctors and patients as to the realities of female hernia sufferers. For more information about Dr. Towfigh's work, and the mission of the Beverly Hills Hernia Center, prospective male and female patients can call the medical center at 310-358-5020, or visit them online at https://www.BeverlyHillsHerniaCenter.com.