Donor Duel Between UNLV and UNR Promotes Donor Registration in Nevada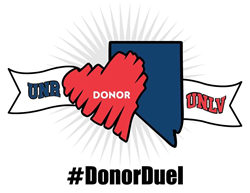 National Donor Day, February 14, marks the beginning of Nevada's first Donor Duel, a friendly competition between students, alumni and supporters of the University of Nevada, Reno and the University of Nevada, Las Vegas to see which group can register the most people as organ, eye and tissue donors during a six-week period. This joint effort will increase the number of registered donors in the state and give hope to those who wait for transplants.

Donate Life Nevada will host registration drives outside the student unions at both UNR and UNLV from 10 a.m. to 2 p.m. on February 14 and will provide information about organ, eye and tissue donation, registration instructions and giveaways for those who register or reaffirm their commitment to be a donor hero.

Alumni and other supporters are also encouraged to register as part of this campaign, which will run through April 30. To have your new or reaffirmed registration count toward your favorite school's total, visit https://www.DonateLifeNevada.org, click on the "Register Now" heart and select Donor Duel after clicking the "Add Myself to the Registry" button from the dropdown menu when asked how you heard about the Nevada Donor Registry.

Two schools enter the competition, one school will win bragging rights—but in the end the real winners are those who receive transplants each day thanks to heroic donors, their families, and those who say YES to being a registered donor. The need is great. Nearly 115,000 Americans are currently waiting for a life-saving organ transplant, including 582 Nevadans. One million tissue transplants take place in the United States annually, and 48,000 people receive the gift of sight through cornea donation.

About Donate Life Nevada
Donate Life Nevada is a collaboration of agencies responsible for organ, eye and tissue donation in Nevada and is a proud affiliate of Donate Life America, a not-for-profit alliance committed to motivating the American public to register now as donors. Donate Life Nevada's mission is to save lives by educating and inspiring people to become an organ, eye and tissue donor through the Nevada registry.