Data Age eCommerce Clients Top $25 Million in Online Sales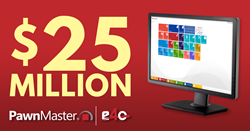 Data Age Business Systems, the developers of PawnMaster, the industry leading pawn shop management software, are excited to announce a landmark eCommerce occasion. Using the integrated eCommerce listing tool e4o, PawnMaster users have sold over twenty-five million dollars' worth of merchandise since e4o's inception in 2016.

"Giving our customers the ability to get their items in front of millions of potential buyers is huge," says Len Summa, CEO of Data Age Business Systems. "eCommerce is a tool that all retail businesses need to be taking advantage of, especially a business like a pawn shop that's trying to move a lot of inventory to make room for the new." Due to the direct integration with PawnMaster, e4o users can list items with a click of their mouse. Customers don't need to enter the same information multiple times if they want to post an item on multiple listing channels. "e4o takes the info already in your system and pushes that out when creating a listing, it's really slick. You can list 20 items through PawnMaster in the time it would take you to post one manually," says Summa.

Double sales are a thing of the past through e4o, which is tied directly into PawnMaster's inventory management system. With this connection, shop owners can list items for sale online while continuing to display them instore for their daily visitors to see. When an item that's listed online is sold, the system is notified, and all the other listings are automatically removed. The user is notified via PawnMaster that the item sold so that they can pull the item off their floor and prepare it for shipping. e4o is currently integrated with eBay, Amazon, Gunbroker, and Facebook Business Pages, with new integrations to be announced soon.

e4o is a subscription product, where users pay a monthly rate to list to specific channels. Unlike other eCommerce integrations currently available in this market, e4o has a major differentiator. "We don't charge success fees with e4o," says Len Summa. "We look at it this way; you're already paying to access the marketplaces where you want your items to be, why should you THEN have to pay again when an item sells? That's your revenue, that's what you earned. People are shocked when they find out we don't revenue share on e4o. It's so common in online sales, but our goal is to offer services unlike everything else out there. Ease-of-use, speed of transaction, and keeping money in your pocket. It's what we're known for."

For more information on PawnMaster or to schedule a demo of the software, please visit h ttps://pawnmaster.com/

About Data Age Business Systems
Data Age offers industry leading financial transaction software solutions that enable businesses doing non-traditional lending, buy/sell, check cashing and even traditional retailers to scale their organization, deliver exceptional customer service, capture data quickly and accurately, mitigate risk, adhere to regulatory mandates, manage employee challenges, and drive profitability.