DanForce G1 Flashlight that Lit Up Kickstarter to Raise $400,000...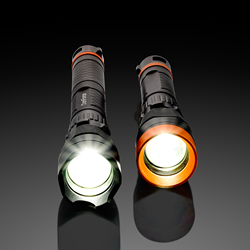 More than 4,200 crowdfunders lit up the Kickstarter campaign for the DanForce G1, investing over $400,000 to make the G1 the most-funded tactical flashlight in Kickstarter history, as crowdfunding continues for the world's first modular, customizable flashlight that adapts to any lighting situation on Indiegogo InDemand.

"We appreciate the support of the Kickstarter community during our campaign, who confirmed the need for this versatile flashlight by making it the most-backed tactical flashlight in Kickstarter history...and the second-most funded flashlight in crowdfunding history, as well," said DanForce founder Daniel Vizel. "The G1 puts the user to put really put the user in total control, whether it's being used at a campsite or on your jobsite."

The DanForce G1 provides the power to make night as bright as day to illuminate the darkest environment. The G1 features six separate modes of operation (high, medium, low, SOS and strobe mode), as well as an eco-mode when extended battery life is needed in challenging or emergency situations.

The G1 is powered by the CREE LED performance chip, producing up to 1080 Lumens, along with high-powered batteries, an emergency power bank, a customizable bike mount, compass, color filters, a tactical pouch lantern fitting, a weapons mount and many more features.

The modular, customizable flashlight can be used in short-range situations in and around the house and for long-range use by connecting an extension to the G1. Vizel adds that the G1 is also equipped with an emergency power bank infused into its design, and its pressure switch for the weapons mount was thoroughly tested by tactical experts in the harshest conditions, so "users can be sure its fast, durable and reliable."

Other features include:

A USB charging slots/Fast charger USB cable
Water and dust resistant
Red and green filters
Adjustable tactical head, focus
Durable clip
Adjustable hand-strap
Powered by CREE, the highest LED quality
Six modes of operation
Emergency Power Bank
Tactical Pouch
Lantern Attachment
Red & Green Light Filters
Compass
Bike Mount
Protective Carrying Case
3200 mAh High-Power Rechargeable Battery (x2)
Hand Strap
Neck Strap
A Secret Gift From DanForce
The G1 is manufactured from aluminum 6061 known for its relatively high strength, good workability and high resistance to corrosion.
Priced at $64, the G1 comes in its own weather-proof, protective carrying case that's equipped with all the accessories.
To pre-order at early-bird discount prices while the special offers last, visit DanForce G1 Campaign Page on Indiegogo InDemand.
ABOUT DANFORCE
DanForce was born out of our passion for sports and travel combined with a frustration that our gear always disappointed us. Wanting our experience with our gear to match our amazing adventures, we set about developing outdoor equipment that would never let us down. Using the latest technology and highest quality materials, we load up every piece of DanForce gear with functional features that perform at the highest level - and don't get in our way.We make innovative, functional, reliable sport and travel equipment made for dreamers who aren't afraid of the unknown. For more information, visit https://www.danforce.com.