Crimson Cup Extends Commitment to Coffee Farmers in Olopa, Guatemala...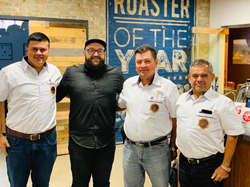 Columbus, Ohio coffee roaster Crimson Cup Coffee & Tea has agreed to purchase two containers of coffee at a premium price from a small cooperative of farmers in Olopa, Guatemala. Negotiated through the roaster's Friend2Farmer direct trade program, the one-year contract is an extension of a three-year agreement signed in 2015 with the Asociacion de Productores de Café de Olopa (Apolo).

Over four years, the contracts will generate over $430,000 in revenue for the co-op and its members.

"When we signed the initial contract three years ago, instability in the coffee market was leading some of the 64 coffee-growing families in Olopa to consider abandoning the crop that had been their livelihood for 80 years," said Founder and President Greg Ubert. "After seeing the benefits of our initial agreement, we are happy to continue working to provide stability and additional funds for the farmers and their local community."

"This new contract extends our commitment to purchase Olopa coffee into the harvest of 2019-2020, providing a stable source of revenue to the co-op and its members," he added.

The agreement was signed during a recent trip to Columbus by Apolo President Arnoldo Cardona, Vice President Alvaro Lemus and Member Eric Ramos. The co-op leaders cupped coffee at Crimson Cup's Innovation Lab while discussing coffee growing and community.

Coffee Buyer Dave Eldridge noted that Crimson Cup was the first American coffee roaster to visit Olopa in 2015. "We're excited to see the progress that our investment in the community is making possible," he said

Apolo co-op members harvest Guatemalan Olopa coffee from Catuai, Acturra and Bourbon varietals growing at 4,900 feet. The beans are fully washed and patio dried. After a medium roast at the Crimson Cup roasting facility, the beans produce a remarkably clean cup, with chocolate fragrance, silky body and pleasing acidity. Tasting notes of brown sugar, caramel and toast round out the sensory experience.

Ubert said he believes direct-trade relationships are mutually beneficial for both grower and roaster. "At Crimson Cup, direct trade means that a member of our team has traveled to the coffee-growing region and signed an agreement directly with a farmer or growing cooperative, rather than working through a coffee broker," he said. "Those direct relationships are crucial to developing a sustainable future for coffee and the people who grow it.

"Through our Friend2Farmer program, we go even further by investing time and money to improve coffee quality and quality of life in the community," he added. "We make recurring visits to make friends, strengthen relationships and help fund local schools and other life-enriching projects."

Earlier this year, Crimson Cup donated $3,000 to ensure that the community's 300 children receive nutritious meals each day and obtain education at a number of Comprehensive Care Centers operated by Save the Children. "This donation lessens the need for children to work to support their families instead of attending school," Ubert said.

About Crimson Cup Coffee & Tea

Columbus, Ohio coffee roaster Crimson Cup Coffee & Tea is Roast magazine's 2016 Macro Roaster of the Year. Since 1991, Crimson Cup has roasted sustainably sourced specialty and craft coffee in small batches, which it sells directly to consumers and as wholesale coffee beans. The company also teaches entrepreneurs to run successful coffee houses through its coffee franchise alternative program, which includes a coffee shop business plan. Crimson Cup coffee is available through a community of more than 350 independent coffee houses, grocers, college and universities, restaurants and food service operations across 37 states, Guam and Bangladesh, as well as the company's own Crimson Cup Coffee Houses. To learn more, visit crimsoncup.com.