Boston Startup Takes on Problem Levi's Won't: Women's Pockets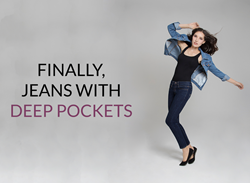 Women's lives have changed radically, but their jeans have not caught up. With limited options, women have accepted sacrificing comfort and utility for style. Most women's jeans have tiny or fake pockets making it impractical to carry everyday essentials such as a phone, wallet, keys etc.

While Wardah was a PhD student at MIT, she often had to carry her belongings (phone, wallet, keys, id) in her hands when going between her office and lab because most of her jeans had very small pockets. One day she voiced her frustration about not being able to carry her things to her husband, Ahmed, who grew up in the textile industry. At first, Ahmed had a hard time believing that this could be a real issue. He did some research, and found that many other women were frustrated with the lack of pockets in their garments and they started working on a prototype.

What started off as a fun project took a life of its own and now has emerged into a fashion-tech startup. Richard Lowe, fashion industry veteran who has worked for brands like Juicy Couture, Vera Wang and Spiegel, came on board as the creative director. To him it was simple - pockets are hard, bulky and no big brand wants to compromise even slightly on style, so they just choose to strip such a basic necessity. As he had helped develop shape-fx technology which uses technical fabrics to create a flattering look, he knew exactly how to add pockets to jeans, while not compromising on style or comfort.

Radian Jeans started with the goal of making comfortable jeans with functional pockets and added cutting-edge textile technology to create the perfect jeans. Radian jeans have comfortable stretch fabric, temperature regulation and an extremely flattering fit. Radian also developed proprietary algorithms to determine the perfect fit based on each customer's body measurements in order to eliminate the frustration of trying to find the right fit of jeans in store and the hassle of returning online purchases.

Radian Jeans is accepting pre-orders on Kickstarter. Radian jeans are available in 4 colors (indigo, light blue, black, white) in skinny and straight fits. The white jeans are created using nanotechnology-based fabric treatment to provide a natural self-cleaning effect.
Radian tested the jeans with a group of women, and recorded the results; see video here. For more about Radian Jeans and to pre-order, visit: https://www.radianjeans.com or visit Kickstarter.

About Radian
Radian is a Boston startup focused on developing technology-based functional apparel. Co-founded by Ahmed Malik, who grew up in the textile business and is currently part of the MIT Advanced Functional Fabrics of America's Entrepreneurship Program. Wardah, Radian's co-founder and now advisor, has a PhD in electrical engineering and computer science from MIT and is working on artificial intelligence based technologies.