BOOMBOX Hailed as Technology Hero of Hurricane Michael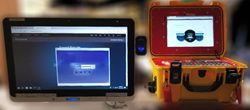 On October 10th Hurricane Michael nearly decimated the town of Panama City, FL knocking out critical essentials such as power, water, communications and connectivity to homes, businesses and critical care facilities. With over 70% of carrier communications towers leveled and almost all utility poles snapped, St. Andrews Bay Skilled Nursing and Rehabilitation Center found themselves without critical communications and struggling to track and report on resident care.

Two days after the storm, Think Anew mobilized a team to deploy BOOMBOX®, a patent-pending communications and SaaS device, restoring communications and critical access to clinical/operational software that allowed the facility to care for the residents effectively and maintain operations during the crisis.

"I cannot describe how bad the situation was", said Jeremy Ryman, St. Andrews Bay Skilled Nursing and Rehabilitation Center "BOOMBOX technology solution provided a lifeline in the middle of a crisis so we could focus on our jobs and ensure the safety and care of our near 100 elderly residents. Which is the most important thing to our staff and organization." Ryman added, "from a business perspective, BOOMBOX prevented upwards of $500K in operational cash flow delays because we had connectivity and were able to submit billings on time."

"The horrid conditions left by Hurricane Michael created significant challenges for many Florida residents, but non more so than seniors in skilled care facilities going without everyday necessities and at risk for medical care issues due to the lack of communications." said Florida Senator Dennis Baxley, who sits on the Florida Senate Healthcare Committee. "We are thankful to Mr. Glidewell and his team for providing their BOOMBOX communications system," Sen. Baxley added, "because of it and an exceptional foundation of caregivers, providers like St. Andrews Bay, can be more prepared when disaster strikes. Technology solutions like BOOMBOX will empower caregivers to accurately record, communicate, and continue providing the exceptional care our seniors deserve."

About BOOMBOX®

BOOMBOX is a cloud-based device powered by secure, reliable Microsoft technologies including Windows 10, Microsoft Azure, Intelligence Edge, Intelligent Cloud, Predictive AI and Office 365.
Unique to the device is its ability to meet strict HIPAA and HITECH security requirements for managing personal health information (PHI). This coupled with advanced security features Microsoft has built into their platform and tools, makes BOOMBOX a leader in disaster recovery devices.
BOOMBOX features enhanced resident displacement capabilities, allowing caregivers to efficiently coordinate resident evacuations.
"In healthcare, the continuous delivery of quality care is critical and Think Anew's BOOMBOX solution's ability to enable long-term care centers to operate during natural and manmade disasters is not only remarkable but an absolute necessity," said Microsoft's WW Health CISO, Hector Rodriguez. "At Microsoft this is why we do what we do - we build resilient, secure, and compliant platforms and services that enable our partners, like Think Anew, to deliver exceptional and life-saving solutions like the BOOMBOX."
Don Glidewell, CEO, Think Anew said, "The around the clock development work by our team on our BOOMBOX solution over the last 7 years, has been solely for this moment. I am so proud of our 'never say quit' team and the role they played in assisting caregivers to keep residents safe by providing crucial communications and medical charting capabilities with 100% uptime for BOOMBOX since October 13." Glidewell also added, "our team's sole focus is to deliver the most advanced technology solutions that empower caregivers to provide the best care possible to our elderly. Even during a crisis like this."
BOOMBOX disaster recovery features can play a crucial role in providing not only proper resident care but also in maintaining business continuity. In 2017*:
30% of businesses had no disaster recovery strategy in place
Recovery efforts eat up 25% of staff time
Unplanned downtime costs between $900 to $17,000 per minute
About Think Anew: Think Anew is a privately held long-term care technology solutions provider that empowers digital transformation for the healthcare sector across the U.S. founded in April 2007 by Don Glidewell. Think Anew is a national company headquartered in Tampa, Florida and Madison, Mississippi. Think Anew is a leader in innovative HIPAA and HITECH technology solutions with an unmatched 97% customer retention ranking. Company recognitions include: Microsoft Top 5% Global Partner Network, #2500 Fastest Growing Company in America by Inc. Magazine, and the Best Place to Work in Mississippi for 2 consecutive years. As a leader in healthcare technology, Owner/CEO Don Glidewell has been recognized as: Business Ambassador of Florida, Top CEO of Mississippi and recently was honored as one of Mississippi's Top Entrepreneurs. Don and his passionate LTC focused team leads Think Anew into the future of healthcare technology by continuing to provide long-term care with the most advanced and affordable technology available.