if lt IE 7 html classnojs ltie9 ltie8 ltie7 lang endifif IE 7 html classnojs ltie9 ltie8 lang endifif IE 8 html classnojs ltie9 lang endifif IE 9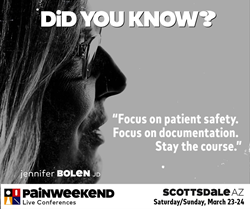 PAINWeekEnd on March 23 and 24 at the Hilton Scottsdale Resort, 6333 North Scottsdale Road, in Arizona, will be a timely and relevant 2-day program providing busy clinicians and allied healthcare practitioners with 12.0 hours of relevant, practical instruction in the management of chronic pain.

The Arizona Opioid Epidemic Act was an omnibus bill signed into law by Governor Doug Ducey in January of last year. Since the signing, various provisions of the legislation have gone into effect, including a 5-day supply limit on initial prescription of an opioid (14 days for postsurgical prescriptions); prohibition of prescriptions that exceed 90 MMEs per day; a requirement for all prescribers to consult the Controlled Substances Prescription Monitor Program regardless of prescription size; and implementation of a mandatory e-prescription filing system for prescribers in all localities by July 1 of this year. New CME requirements—including 3 hours of opioid related, substance use disorder related, or addiction related education—are also included in the legislation.

At PAINWeekEnd Scottsdale, senior faculty member Douglas Gourlay, MD, MSc, FRCPC, DFASAM, will be among the presenters addressing this requirement with his courses: A Comedy of Errors: Methadone and Buprenorphine, and Involuntary Tapers: Legal, Ethical, and Clinical Concerns. Of the latter, Dr. Gourlay commented, "Some healthcare professionals have reportedly subjected their patients to involuntary tapers because they believed the 2016 CDC prescribing guideline required it. In this session, we'll explore the ethical, legal, and clinical concerns and potential harms associated with the involuntary tapering of patients on long-term opioid therapy as a result of a state law, regulation, or out of fear of regulatory sanction."

Other courses include The Regulatory Agency Will See You Now; Pain Management at Ground Zero; Thug Drugs; The Other Opioid Crisis: Heroin and Fentanyl; Update: How the CDC Guidelines Are Impacting Patient Care; Embrace Changes and Prevent Overdose: A Basic Blueprint for Legal Risk Mitigation and Response; Lost in the Weeds: The Past, Present, and Future of Hemp in Pain Management; Cannabis vs Cannabinoids: The Politics of Medical Marijuana; Get Your Specimens in Order: Timely Use of Test Results. In addition, CME Outfitters and USF Health will present their course Precise Prescribing: Applying the Science of Pain to Treatment Decisions.
Commercially supported activities—addressing a range of product, disease state, and medical information topics—will also be presented.

For more information about this or other regional conferences, and to register for $199, go to the PAINWeekEnd website. BONUS: PAINWeekEnd registrants may register for the 2019 PAINWeek National Conference, September 3-7, in Las Vegas, for $200 off the regular online published price.

PAINWeekEnd is provided by Global Education Group. About Global Education Group:

Global Education Group focuses on producing partnership-based CME for healthcare practitioners. The Global team works with a select group of medical education companies, associations, academic institutions and healthcare facilities to develop and accredit live healthcare conferences and workshops as well as online activities. With each partnership or joint providership, Global brings accreditation expertise, project management excellence and grant funding intelligence. Based in Littleton, Colo., Global has accreditation with commendation from the ACCME. Global also holds accreditations to offer continuing education for nurses, nurse practitioners, pharmacists, dietitians, dentists and psychologists. Global is a division of Ultimate Medical Academy.