Adventures Await in Kansas - Make Your Travel Plans Now!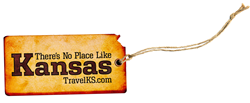 Liberal, KS and Olney, England will be racing for the prize in the 70th annual International Pancake Day Race on Shrove Tuesday, March 5, at 11:55 a.m. The fast-paced event will have women running down the streets of each town with pancakes. The International Race started in 1950 when Liberal Jaycee President R.J. Leete, having seen a photo of Olney's race, contacted Rev. Ronald Collins, Vicar of St. Peter and St. Paul's Church in Olney, and challenged their women to race against women of Liberal. The traditional prize is still the "Kiss of Peace" from the verger (bellringer) and this friendly little race is still the only race of its kind on the planet. (PancakeDay.net)

When you Visit Manhattan, come prepared for excitement as events and celebrations are unique to our area as Gateway to the Flint Hills region of Kansas. McCain Performance Series features dramatic stage performances, soaring music and hilarious comedies like "Legally Blonde: The Musical." Kansas State University has the state's most stunning campus, and in April hosts annual open house activities that attract 20,000 for campus-wide fun. 2019 welcomes the 40th Saint Patrick's Day parade and 10K race with delightful festivities in historic Aggieville Entertainment District. More celebrations include the fifth biennial National Festival of Breads and Kicker Country Stampede music festival, both in June. Kansas State University basketball takes center stage until spring football rolls around in April, and more attractions include an MHK winery, escape room and unbelievable foodie stops. Get geared up for waves of pleasurable activities during 2019. Visitors can't help but declare, Oh Manhattan!
(VisitManhattanKS.org)

This spring, paddle the waters of Wichita's Arkansas River with canoe, kayak and paddleboat rentals from Boats & Bikes. The new boathouse and public dock on downtown's west river bank also serve as home to the Wichita State University rowing program. Watch for downtown's under-construction Hilton Garden Inn, featuring a glass-bottom rooftop pool that juts out overtop Douglas Avenue, to open this spring. And on the city's north side, the Guinness World Record-holding "largest mural painted by a single artist" is coming to life on the side of a huge grain elevator along I-135. Depicting members of the Hispanic and African-American neighborhoods reaching out to each other, the mural is an effort to unite races and neighborhoods divided by I-135. (VisitWichita.com)

Ahead for car enthusiasts: the Midwest Dream Car Collection in Manhattan and Decades of Wheels in Baxter Springs. Manhattan's 55,000-square-foot Dream Car museum, opening by spring, features an eclectic mix of early roadsters, muscle cars and exotics. Cruise on down to Route 66 in the state's far southeast corner to Decades of Wheels. When completed in spring, the downtown Baxter Springs complex will include the Café on the Route restaurant (now open), a Route 66-themed arcade, dessert bar, bed and breakfast inn, and the main attraction, the Decades of Wheels museum of collectible cars and motorcycles, from the early 1900s to the latest.

For more information on these, or any attractions or events happening in Kansas, visit TravelKS.com.